A few good reasons to use SPY4m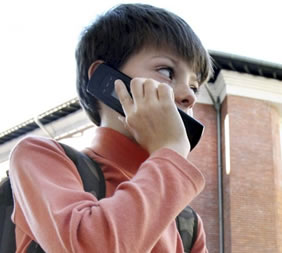 Teaching your child mobile usage is up to you
SPY4m makes it easy!
Is your child at risk?
One of the largest social revolutions of the 21st century takes place all around us, but went almost completely unnoticed by any person below the age of 21.
Your child and the mobile phone technology
Whether we choose to recognize it or not the mobile phone is already the favored form of communication for an entire generation. According to a study published in March of 2013 by the prestigious Pew Internet & American Life project mobile 78% of teens now have a cell phone, and almost half (47%) of them own smartphones:
SMS outranks face-to-face communications by a stunning 21%!
84% of girls & 67% of boys text on personal matters.
50% of all teens send over 50 text messages a day.
New Frontiers Pose New Threats
Never in mankind's history has a single technology been adopted as rapidly as the mobile phone. It took Apple only 2 years to sell more than 50 million iPhones. Not only have mobile phones taken over our lives quickly - there really is no escaping them. By their very nature cell phones are ubiquitous. In fact chances are you have one on your person right now.
The social consequences of this mobile revolution are only just starting to grow and the shock waves will be with us for decades to come because humans, unlike technologies, evolve at a much slower pace. The problem is our children cannot wait that long. They need guidance now.
The Mobile Menace
This revolution is being led by teenagers and although this can be a cause of great pride to us all, it should also be a source of concern. Remember all the stupid things you did when you were a teenager?... The crucial difference between our teen tumbles and today's is that we didn't have to worry about mobile phones, social networks and YouTube. Cell phone cameras, social networks & YouTube mean that every teen-ish tomfoolery can potentially damage a child for life, & unfortunately far too many do.
... a couple's breakup led to the girl's naked image being forwarded to everyone at school which ruined high school for her ... (Washington Post)
... The exploits of the Michael preteen... He persuaded girls to send him nude photos... then charged pals for the peep show. The principal called the cops .... (Washington Post)
... 18% of teen boys & 22% of teen girls say they've sent, or posted online, semi-nude pictures or videos of themselves ... (Washington Post)
If these stories made you cringe, just wait until you read the following stunning fact:
... Over a quarter of teens reported having been harassed by someone else via their cell phone.... 15%-30% received a suggestive or nearly naked image of someone they know (Pew Research Center)
Today's teens require as much guidance as ever
Just because our kids know how to operate an iPhone in their sleep doesn't mean they've got the mental maturity to do so responsibly. Why would they do so?
They're children!
Children, today as in the past, need two things above all others if they are to develop into healthy adults: parental love & guidance, which passes through education in general.
SPY4m helps parents and gives them many indications
Designed to provide parents the tools they need in order to extend their parenting into the mobile world today's kids & teens are immersed in, SPY4m is a powerful mobile phone app that gives you almost complete control over your child's mobile device. It allows to:
Locate your child instantaneously
Protect your child from cyber predators
Prevent bullying
Provide Parental Supervision
Encourage responsible mobile usage
Once downloaded and installed on your child's smartphone you will be able to monitor as much of your child's cellular activity as you feel you need to:
Monitor all emails, SMS messages, call logs, chats (Facebook, Whatsapp etc)
Pinpoint your child's location via GPS & cell phone network data
Turn the phone on remotely in order to listen to the surroundings
Listen to live calls in progress
Regardless of how you to choose to use your software, having SPY4m installed on your kid's cell phone could spell the difference between life and death when they are in an emergency situation.
"...The percent of teenagers who have sent or posted nude or semi-nude pictures or video of themselves: 30% of teenagers overall
22% of teen girls
18% of teen boys
1% of young teen girls ages 13-16..."
Benefits to you
Allows you to watch in real time with whom your child chatting, sending emails and SMS messages
SPY4m X-PRO lets you know through GPS positioning, where they REALLY are and not where they say they are
Your child may use a different SIM card before communicating, SIM change notification will advise you in this case
You can analyze and identify their network of contacts
You can search the history of messages for key abuses words
You can configure alerts for specific numbers so that you can listen in on live calls!
"...51 percent of teen girls say pressure from a guy is a reason girls send sexy messages or images; only 18% of teen boys cited pressure from female counterparts as a reason..."
"...52 percent of teenage girls used sexting as a "sexy present" for their boyfriend..."
"...The National Crime Prevention Center study found that only 10% of those kids who were bullied told their parents about the incident, and that only 18% of the cases were reported to a local or national law enforcement agency..."